For the best viewing experience, 9/10 doctors recommend you listen to this while you read.
I had one hell of an adventure is past weekend. Ever since moving up to Burlington I've found myself doing more and more with the time I have - down in Chamberburg it wasn't so. I had a good time there, and in Shippensburg, but it was so easy to simply do nothing. I'm willing to be that has just as much to do with me as it does with the area. On to the adventures!
There is a brewery in Vermont (no, really!?) called Hill Farmstead, known world-wide for its incredible beer. I once had a pint of a beer rated 100 by Beer Advocate, the Hill Farmstead Double Galaxy, and I was hoping to score a growler or two of that. Ever since moving up and stumbling upon a Hill Farmstead 'tap takeover' nearby I've wanted to visit this place and get some beer for myself. My lazy ass just didn't go and do it for the longest time - this weekend was the final straw. I always feel incredible motivation after visiting home, picking up good habits (all too temporary) and finding the will to do stuff like this. I'm so glad I did.
The brewery is a bit over 1.5 hours away in a town called Greensboro, Vermont. To get there from Burlington you drive through Stowe - more on that place further down. As you drive the roads get smaller and smaller, dirtier and dirtier, until your last approach to the brewery is a simple dirt road up the side of a hill. Getting there in the winter must be a tough ask for cars like mine - two wheel drive sedans with all-weather tires. The weather was a bit cloudy, but still warm as befits a Vermont July.
Hill Farmstead itself is incredibly low-key, chilling on top of the hill and enjoying an incredible view of the mountains around. My grandparents lived on a hill in Bath, NY, and it was so similar to that as to be nostalgic and comforting. The same breeze, the same look and feel around you, the same flora, the same pressing quiet of the forest around you. The brewery is housed in a newer building that doesn't stand out too much but instead blends in with the surroundings and seems to belong quite well. The other buildings - a retail shop and some surrounding houses within a few hundred yards or so - looked right out of the hills of Bath, New York. The same level of time-worn semi-disrepair (tar paper siding, some boards here and there, building extensions placed where needed) that felt like the house right down the road from the Grandparent's place. The only thing it needed were some chickens and a pond. And a tire withchives and spices growing in the middle.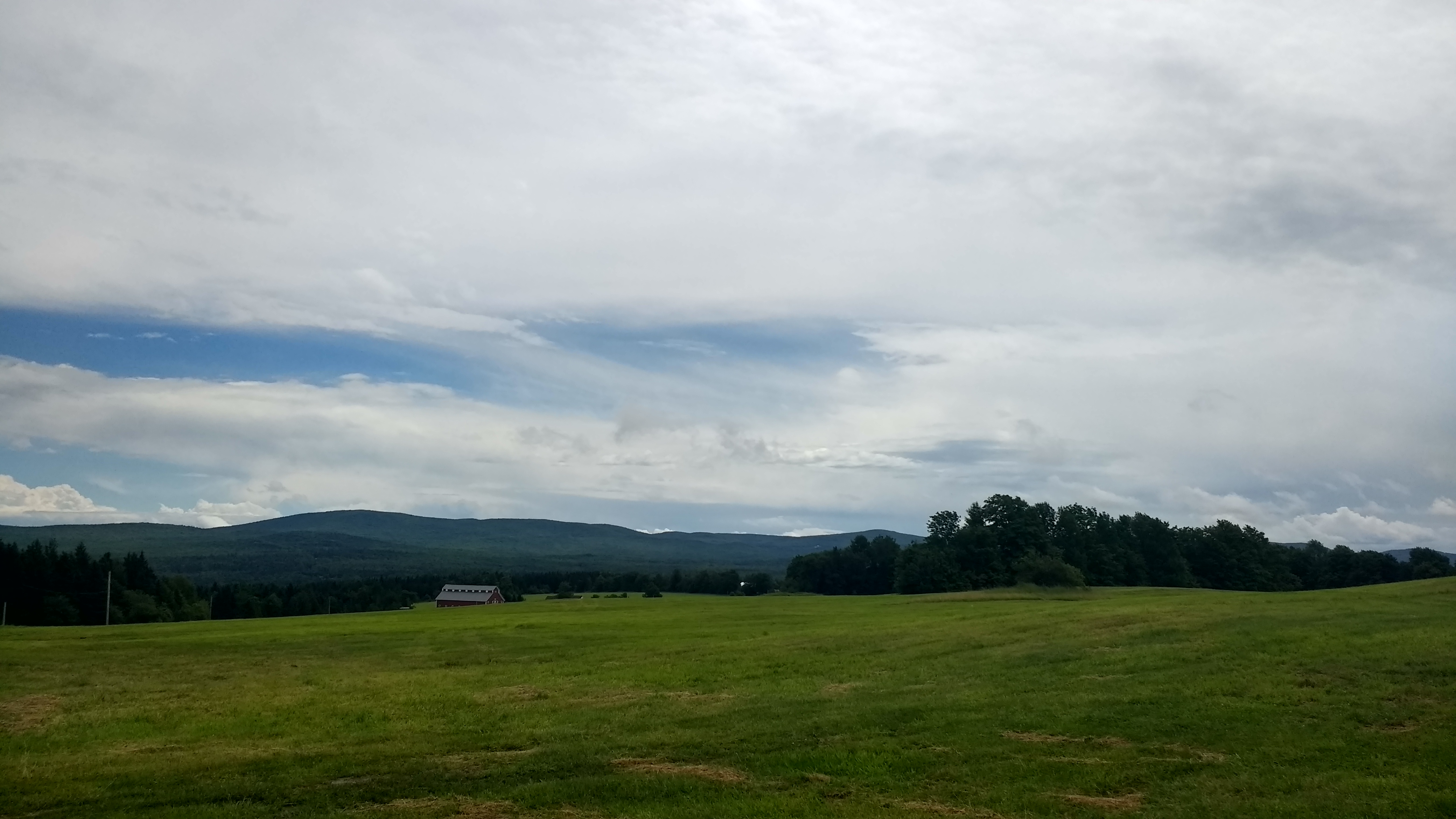 Blue Skies, Green Hills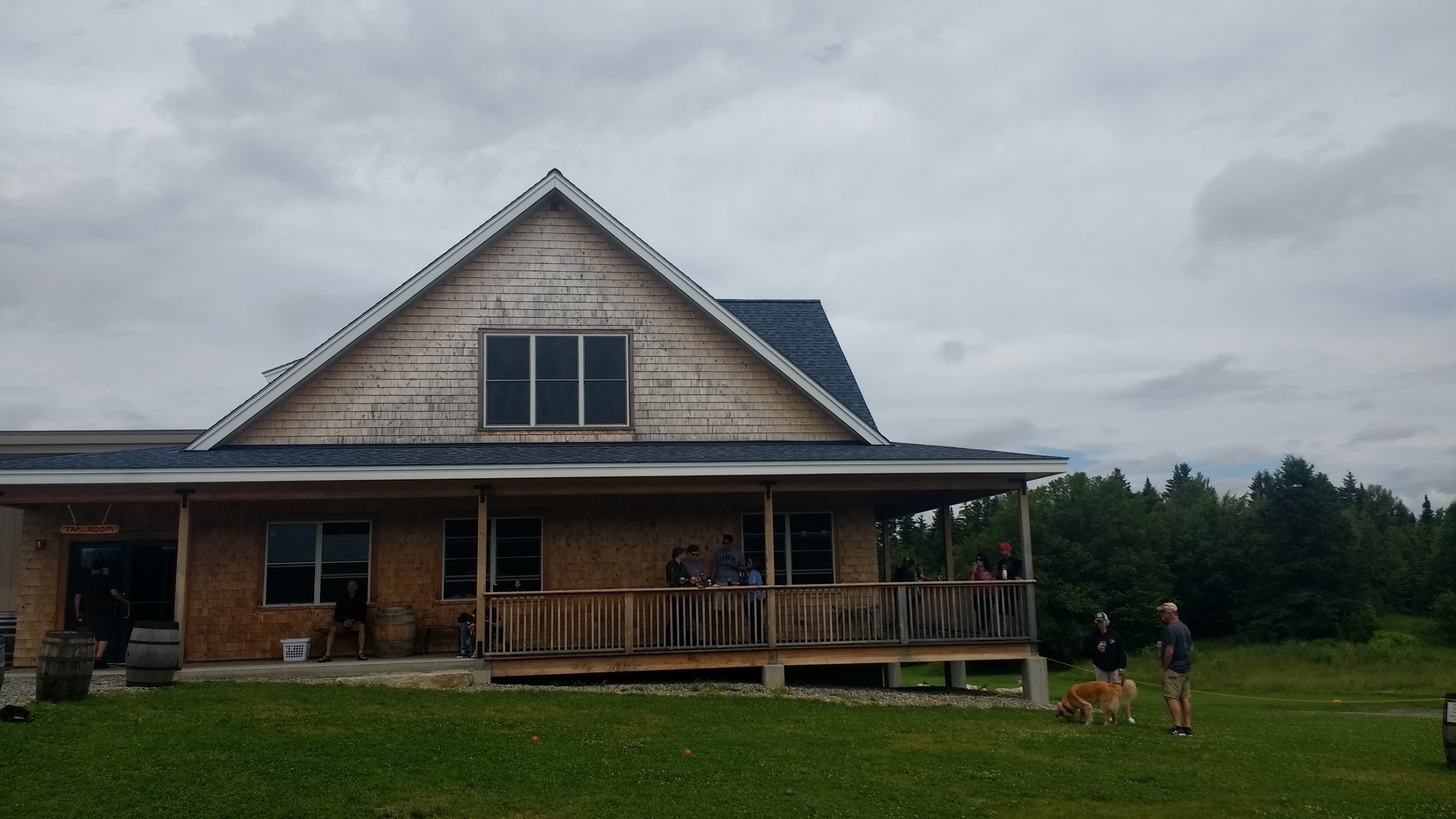 Tap Room + Deck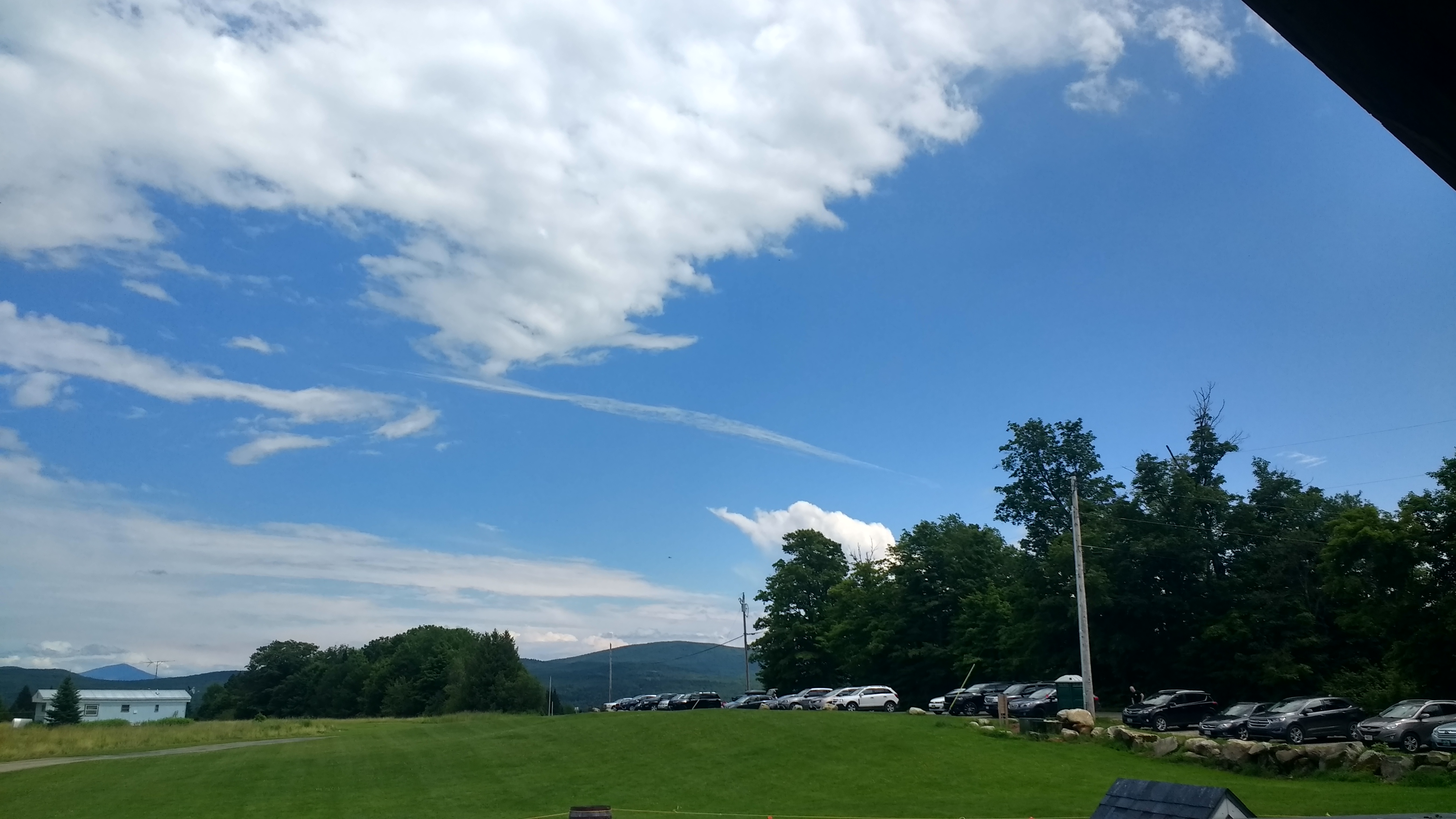 Bluer Skies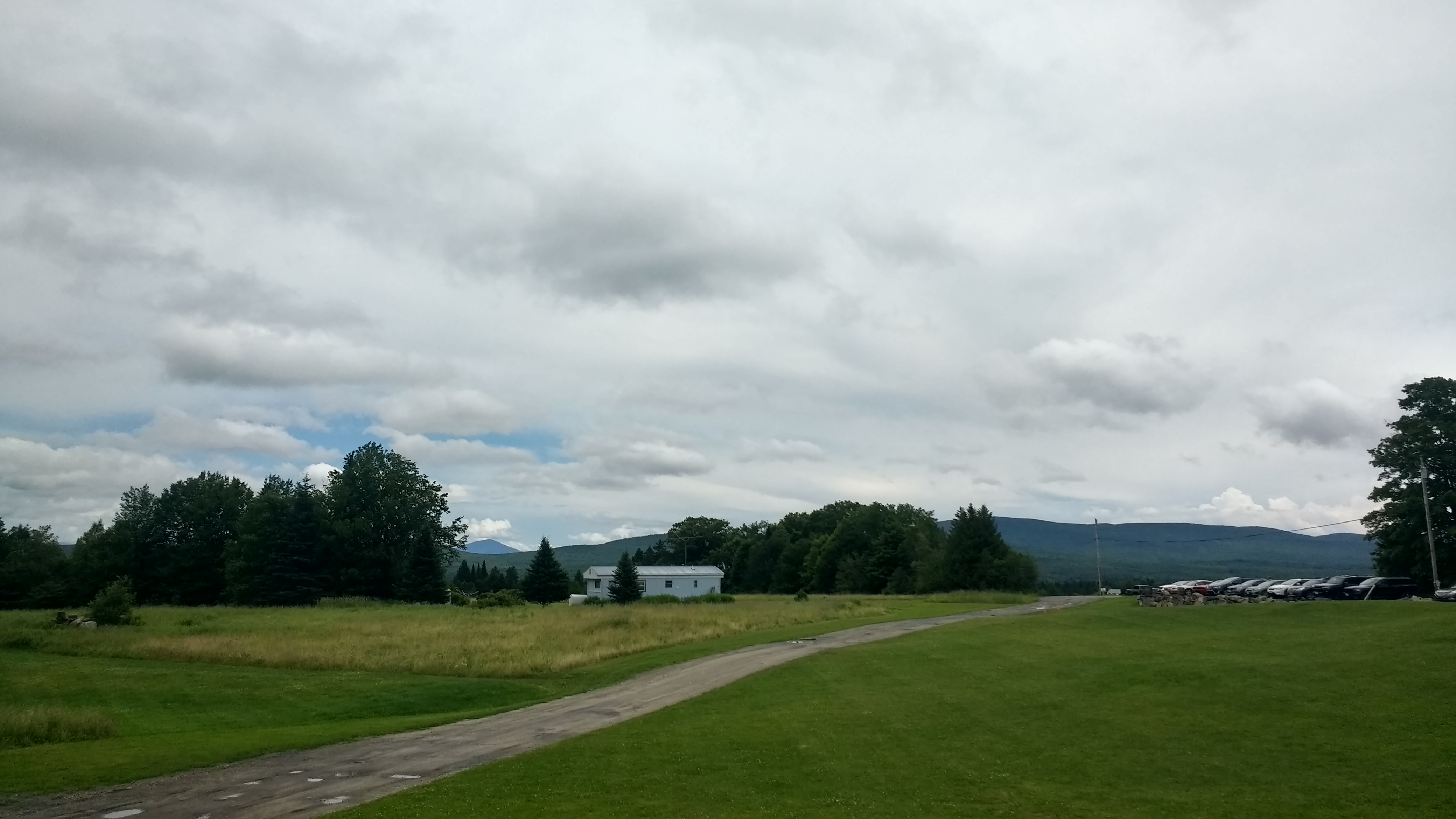 Rain on the Way
I anticipated the wait and the crowds, but there wasn't too much of either. Parking was kind of structured - you'd roll your vehicle into a field right off the road, and there you'd park. It felt, as mentioned, very low-key. No paved spots, nothing covered. Just a hilltop. I saw maybe two hundred people come and go as the day progressed, most of them making their way into the tap room for glasses and growlers of the world-famous suds. For growlers you'd grab a numbered ticket at the entrance and wait until it was called, like the butcher's department at a grocery store. My number was 675 - I came in when the 630's were being called, but the rate they called numbers meant I wouldn't have to wait long, and I didn't.
I put my growlers down with the other empties to make friends before filling, and I went outside to see what was up. This is where I discovered the views, the nice breeze, and the yak burger cart outside. It was so quiet - the dull murmur of people, but not overpowering, the hum and crunch of cars over gravel. I passed the next 40 minutes or so just watching and lounging.
And sampling. I sampled a wide varitey of beers - a double IPA, two stouts - normally a fan of stouts, but there were a tad too strong, and a few different German varieties. All of them delicious. My number was called shortly after my fourth sample (each was a sip or two, if that) and I filled my growlers: 2 Edward (the flagship brew), 1 Marie and 1 Mary, and paid a good amount for them. And just like that the real reason for all this driving was over. So I lounged around some more.
I sat in a pavilion outside at a large rough picnic table, near to the Yak burger stand, reading a book about the Camino de Santiago. The book was originally bought for my dad, but I'm taking a stab at it here. I enjoy the conversational tone and daily chapter layout. It's an easy read, and I found each day melting away in the shoes of this priest making the walk. I read for an hour and a half before my ass starting hurting so, grabbing four growlers with two hands (ouch!), I got back into my car and drove into Stowe for the next phase of my adventure.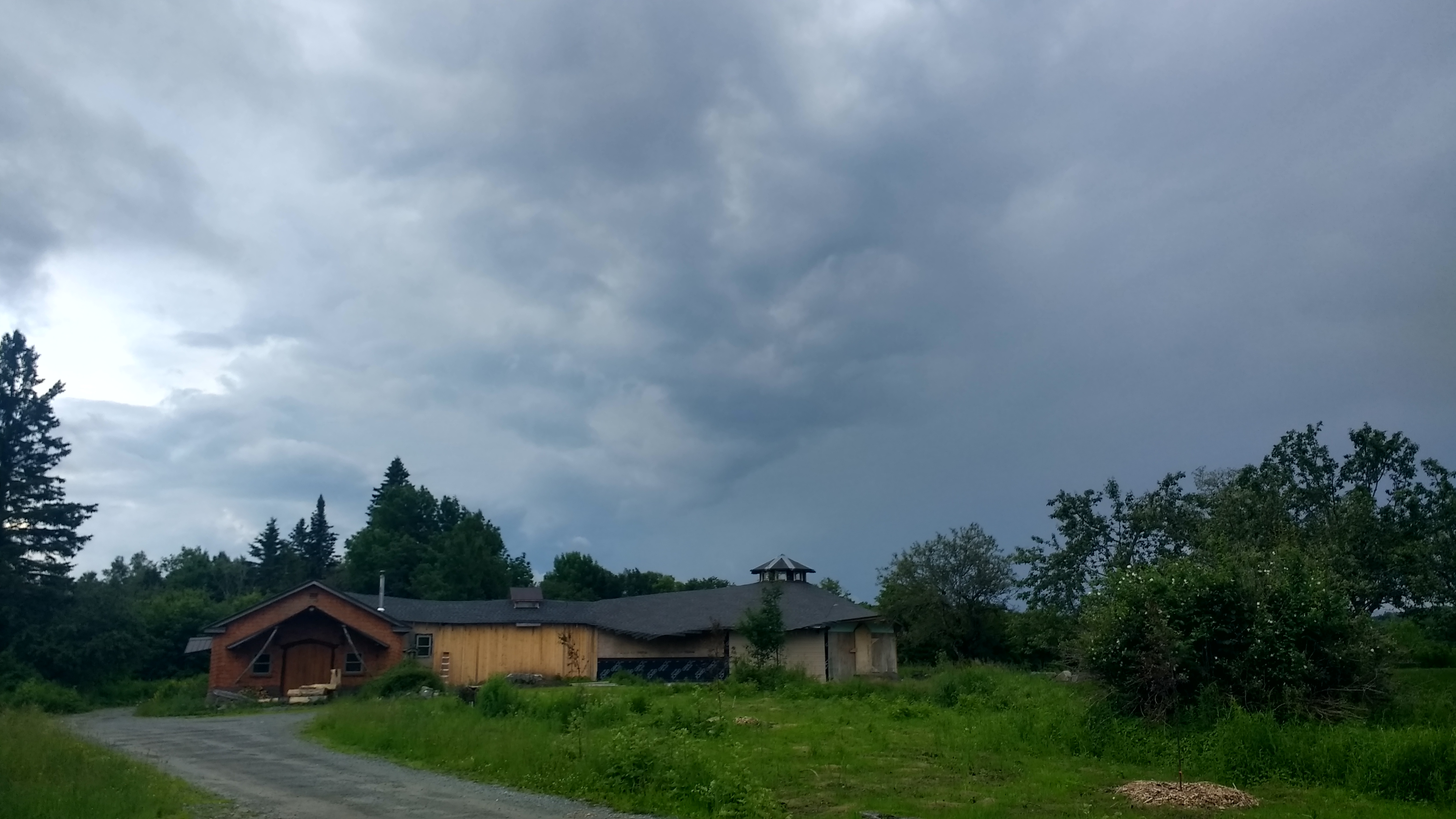 Dark clouds gethering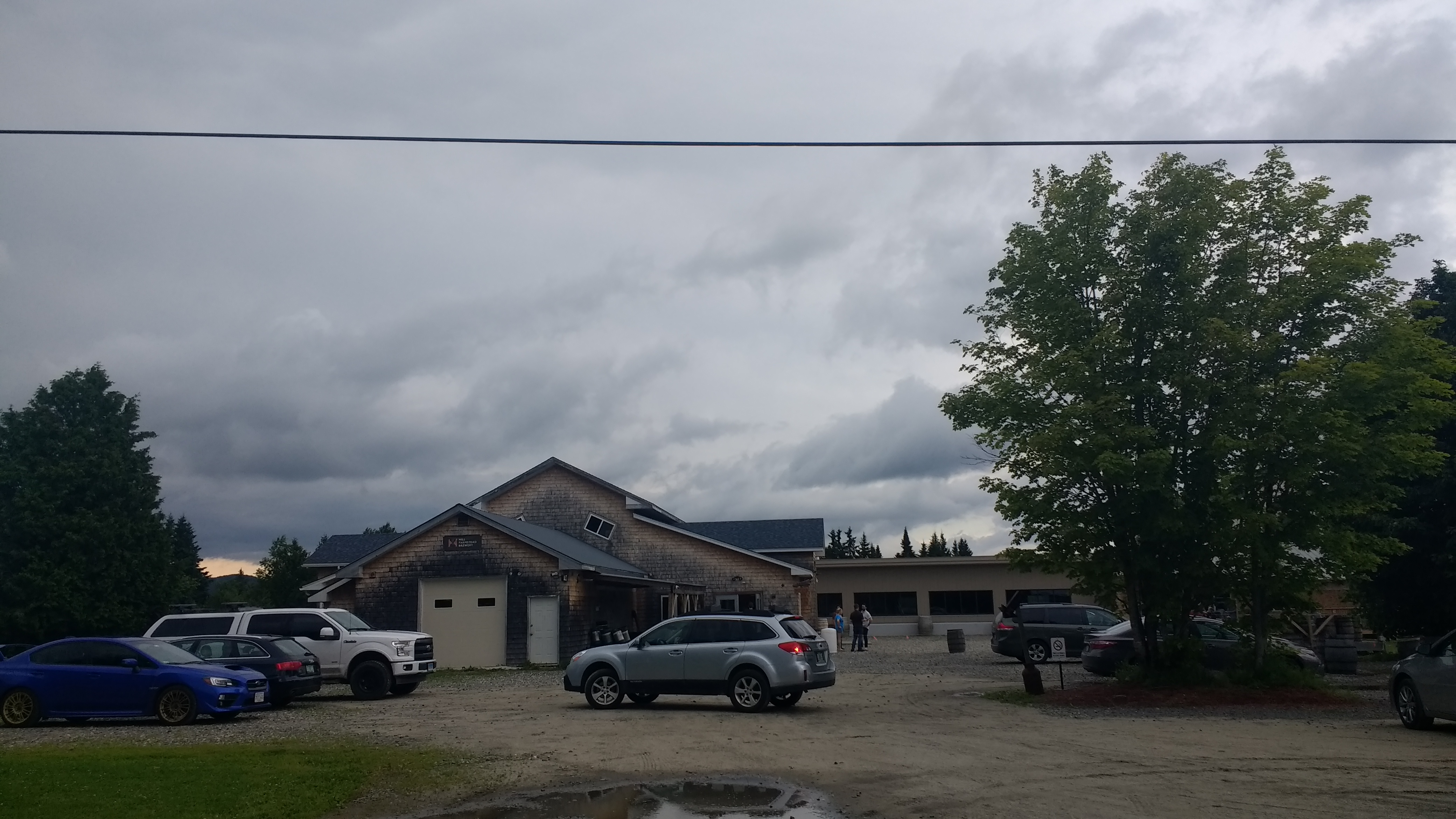 Over the brewery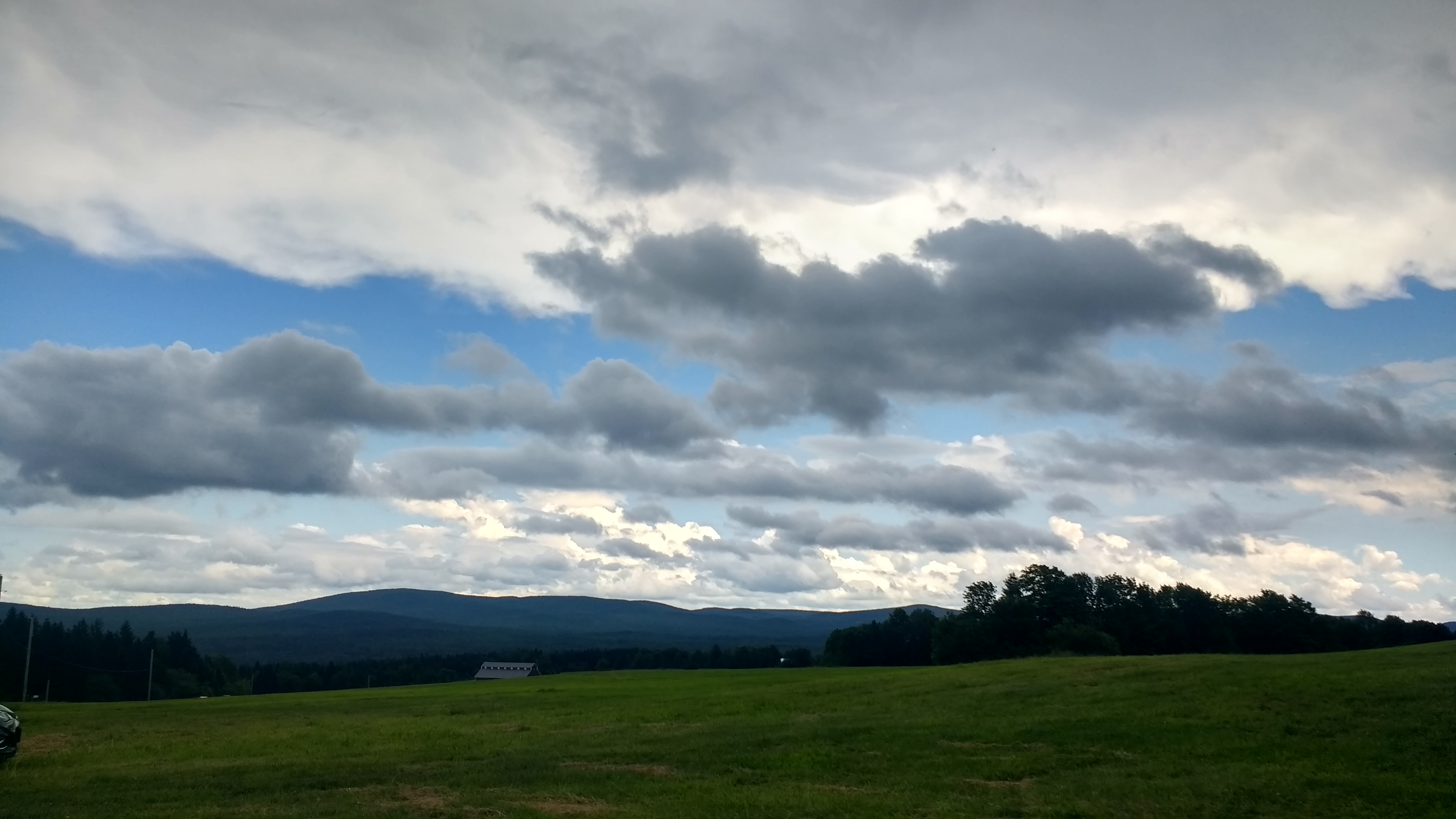 They looked fine that way!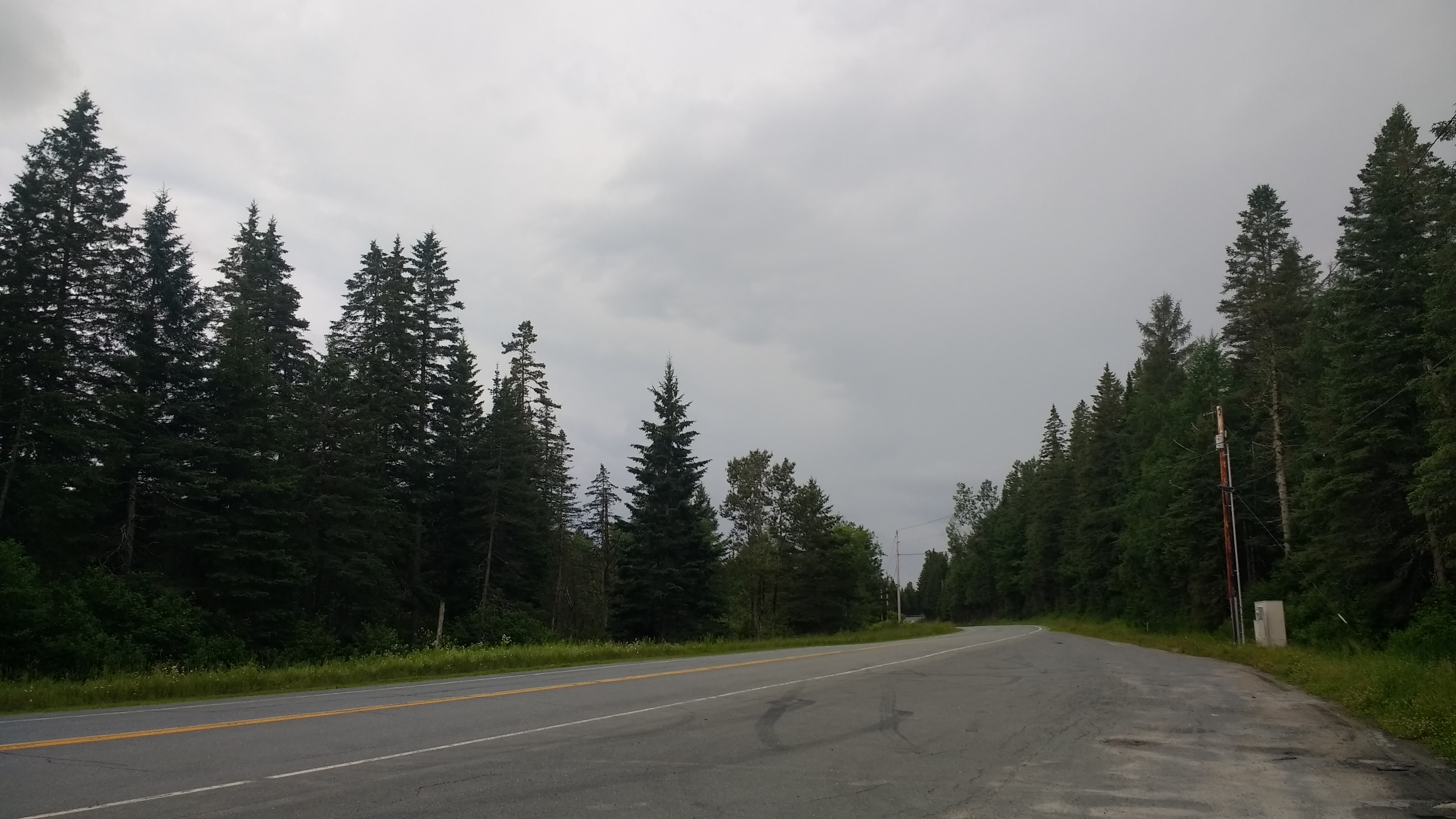 So quiet
The drive down the hill from Hill Farmstead - named for the Hill family, and not the geographic feature! - was an exercise in transcendental solitude. I felt so at peace that I had to first turn off the podcast (sorry Jason and Mallory of Binge Mode - Game of Thrones is great, but this was greater) then turn off the car to enjoy the quiet. This is where I was really struck by the similarities between Bath and Greensboro. The quiet country road (but not totally deserted), the gentle rainfall, everything, just made me feel so alone and at peace. I spent 15 minutes just chilling there.
I reflected on the nature of my trip and how it seems to fit into my whole life. I was alone, peaceful and happy, but alone - as it always seems to be. I enjoy the solitude, but not the inevitability of it. There was no one to share it with, and I was sad - I often feel like I just don't have many friends (for whatever reason), and I haven't had a girlfriend in 6 years. These adventures were nearly always just me, myself, and I. Why was that? Probably had something to do not being in PA, where I knew many more people, and with me not being very brave. I hate intruding, hate being a pest, so much so that I often just stay in my shell - go to work, come back home, and never the twain shall meet. Everyone else seems the same way, from where I'm standing, though - no one's calling me either. Whatever - in this moment I thought all these things: happy that I could take these trips and enjoy these things, and sad that there was no one to share it with. After 15 minutes of this, and the gentle (but increasing!) rainfall, Stowe and Edson Hill called to me.
My little brother, Kevin, works in a restaurant/resort called Edson Hill. He used to work at The Bench, a nice place also in Stowe. But this new place is on some next-level shit. It is located in a heavily-wooded area on a hill, and occupies god knows how many acres. They've got horses in a fenced-off area and I made a note to stop by on my way out. The surrounding view was breathtaking. Green all around, with mountain slopes rising into the clouds. It was damn-near perfect. Only thing it needed was a lake. Then I'd be sold.
I ate at Edson Hill, and got to see my little brother do his thing. I'm kicking my own ass for not getting a picture, because it is priceless. Kevin is an artist, and dresses and looks like one, but here he was very professional in his dress and manner. His hair, normally a curly massive afro (think Anderson Varejao, but with much more body), was tied back tightly and secured with a badass bandana. He wore a chef's coat, a long white number, with the traditional black pants. He looked like a chef from a movie - it was so cool to see. I got to say goodbye while he was working the grill, and he was all business before seeing me.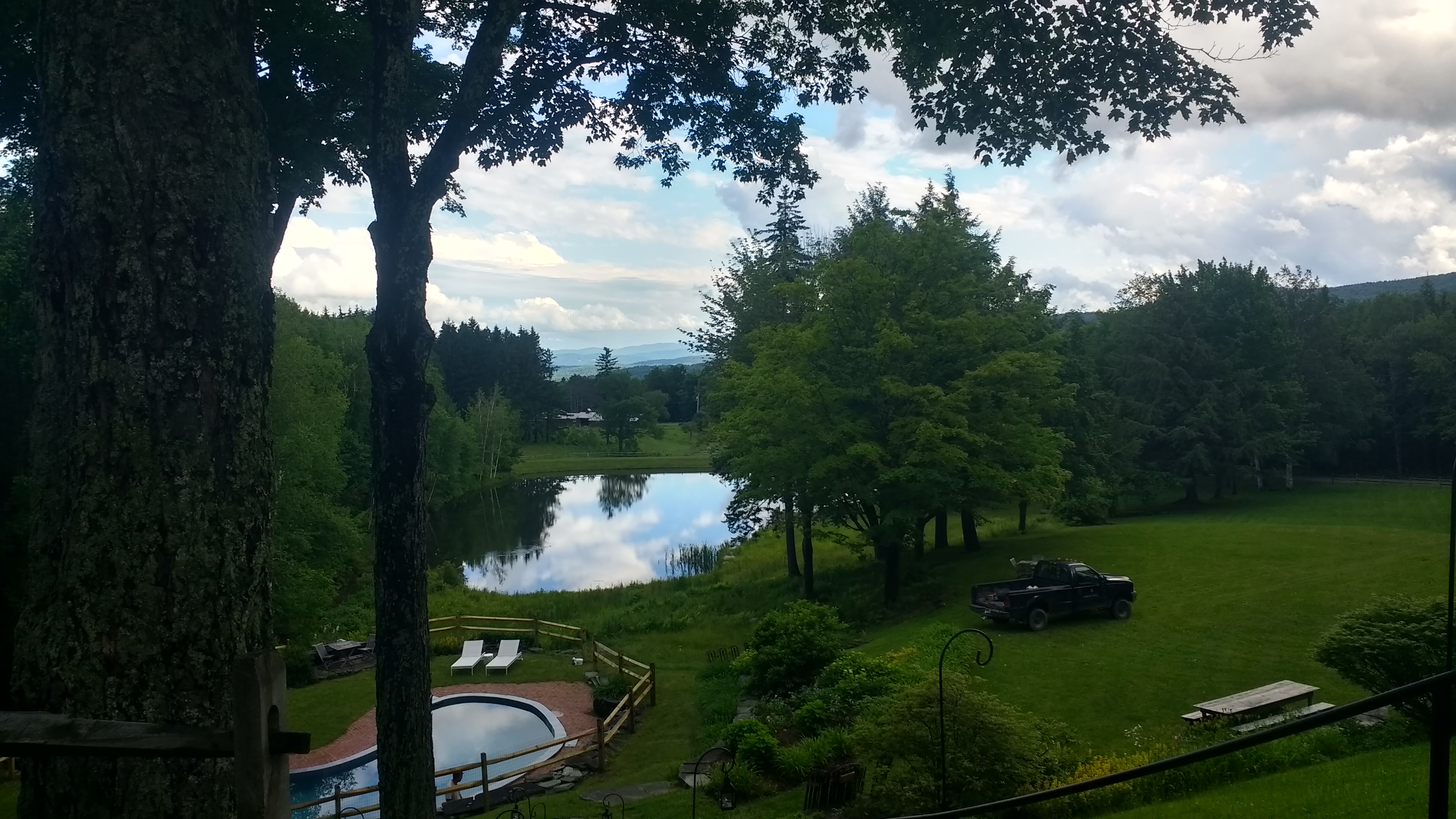 Edson Hill resort is gorgeous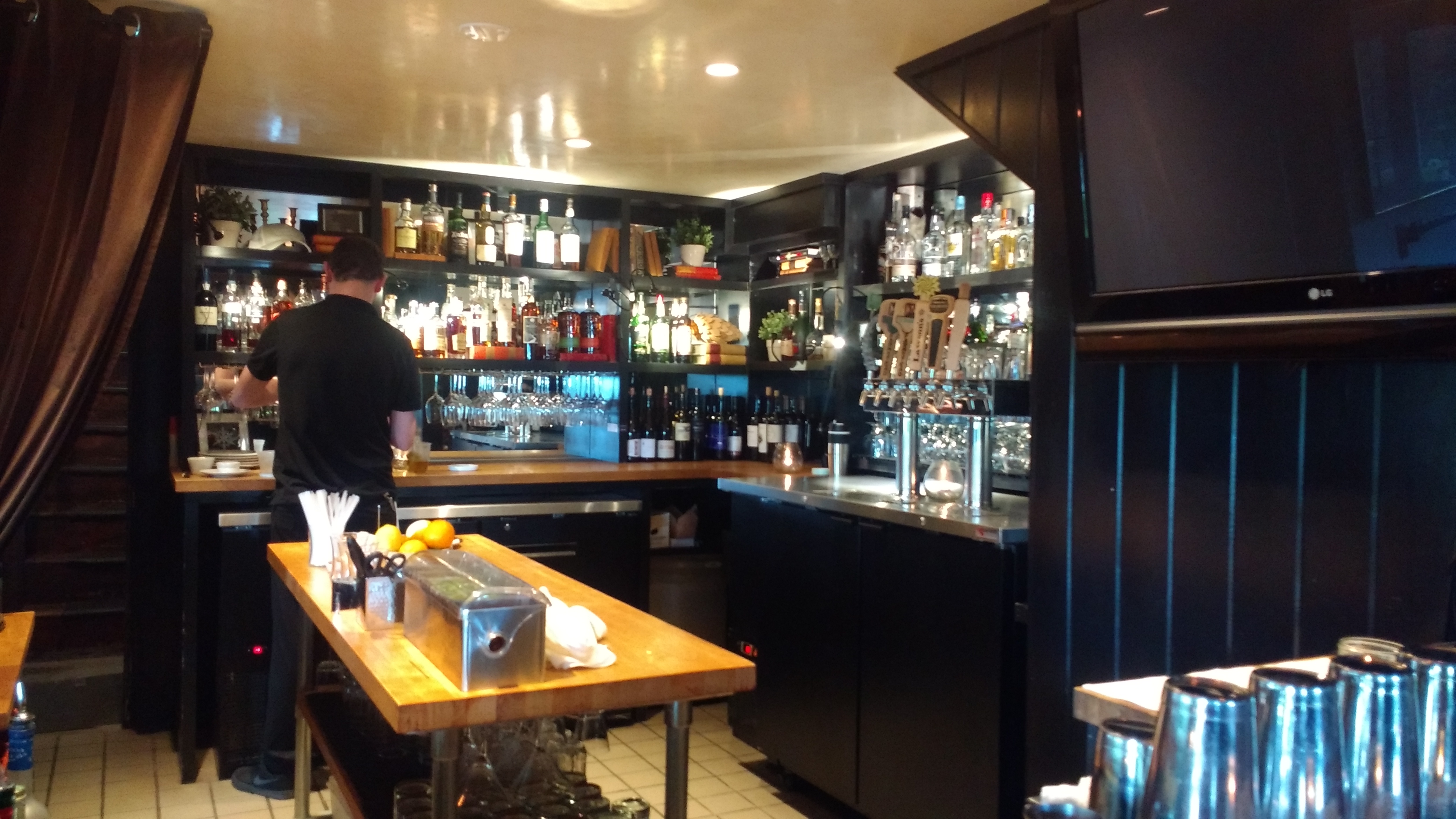 Just me and the bartender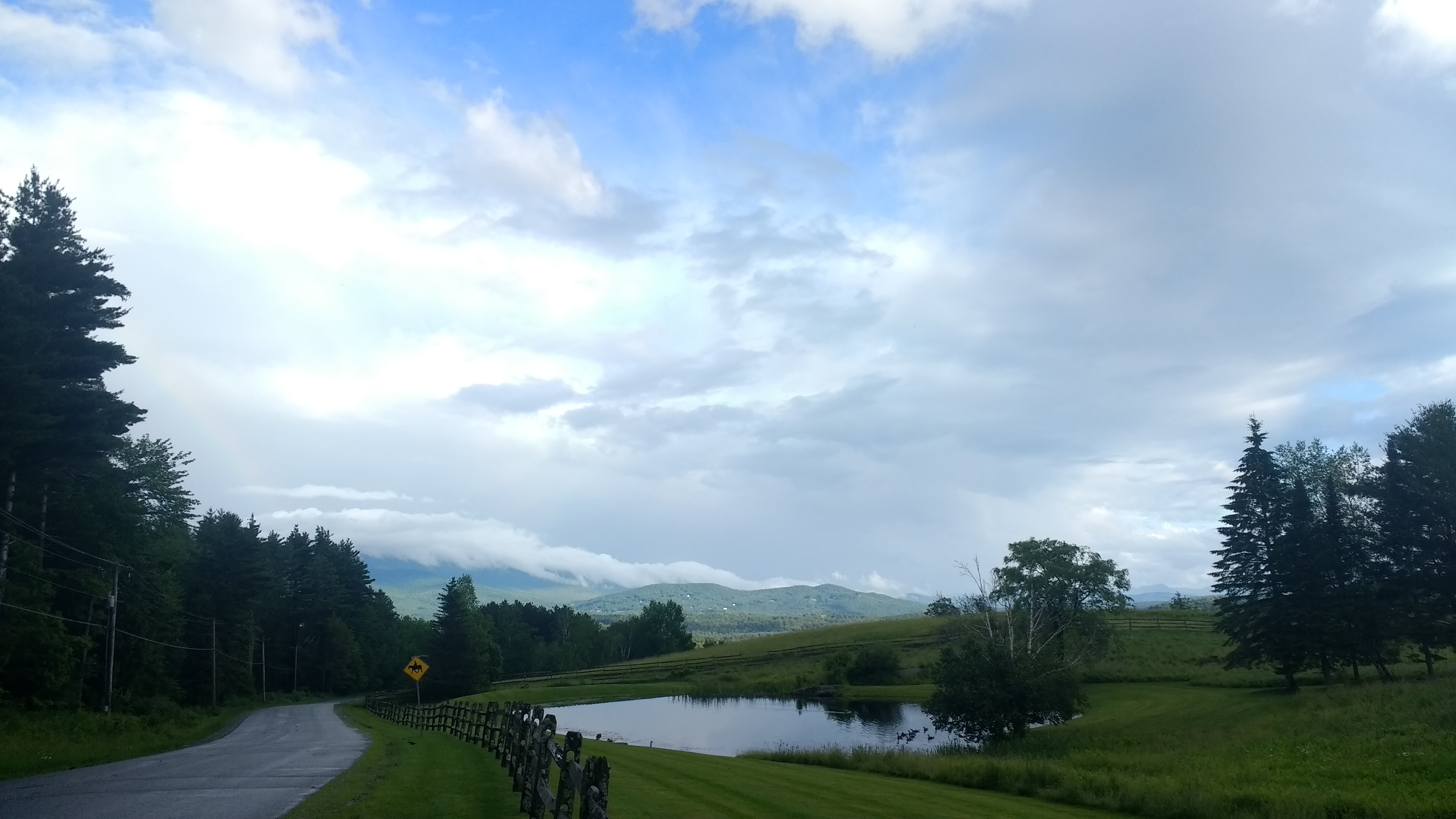 This was the exit. Amazing!
Kevin works the grill, so I ordered accordingly. I had a toasted piece of bread covered in a duck rillette (a kind of pate) that was an experience to eat. The rillette was cold, the toast warm, and the contrast provided lots of interesting texture to the dish. The flavor was incredible and the accoutrement provided an earthy and tasty element. There were pickled chantarelles and cherries on the side - the mushrooms were earthy and delicious, the cherries tart. Topping it all was a red wine reduction, tart as the cherries. Taking all these elements - toast, duck, cherry, mushroom, sauce - made for a blast of flavors, with the sweet, the tart, the earthy, the toasty all proving themselves up to the challenge of my hunger. The toast was the best part of the meal, but don't let that undersell the mussels and steak.
The mussels were delicious as well - I would wager money I could eat those by the thousands. They were prepared in a lemon and brown butter sauce, and each morsel was a delicious seafood treat. The steak, prepared with love by my own blood, was also delicious. Siding the steak were some fry-cut potatoes and broccoli rabe, and topping the steak was a creamy ramp butter (ramp butter? Don't remember what that was...but it was good!). Taken in one bite - broccoli, potato, and meat - was the way to go. Individually all were good, but the whole dish was a treat together. I specifically enjoyed the toast most of all because of the uniqueness of the ingredients and preparation. I went all-out and took a glass of bourbon with my steak as well.
The drive home was a comfortable one. I couldn't wait to uncork a growler and dive in. My belly was full of delicious food and my ears were assaulted by the Mother of Dragons and the Maester as we all reviewed the history of Game of Thrones. The drive melted away quickly.
For my next adventure, I'm going to finish my wooden desk surface and use some bolts to secure it to the desk bottom.
As always, feedback is welcome at jurnacsr@gmail.com